The Secret Caves of Sedona, AZ
There's something special about an alcove tucked into the canyon walls. Caves are a place where we can find a touch from the ancient past - a refuge from the storm, a home, a place of ceremony, or a lookout over the land. They always require some curiosity to reach and provide a sense of discovery when found!
We've got a few on this list that you may have heard of, and few we bet you haven't! Most locals will not tell you where these caves are, and most are not included in local guidebooks, but turn-by-turn directions and GPS coordinates are available in our new book, The Wanderer's Guide to Hiking Sedona.
The Birthing Cave
Access: Long Canyon
While there is no evidence that Native American women ever used this alcove as a place to give birth in ancient times, there was a dripping spring at the back that gave it the shape and appearance of female anatomy. Many dripping springs in Red Rock Country created similar alcoves. Because this one is relatively easy to reach, it became popular with New Age followers, who gave it the name by which it is now commonly referred. The "cave" opens to a beautiful view of Thunder Mountain. We rate this hike as easy.
Mystery Cave
Access: Bear Mountain
One of our favorite caves in Sedona is also one of the least visited. That's because very few people know where the Mystery Cave is located. For now at least, you're virtually guaranteed to have it all to yourself. We've been here many times and never encountered another hiker. We rate this hike as moderate.
 
Patio Cave
Access: Deadman's Pass
The cave behind the Patio is approximately one mile from a paved parking lot, so the hike rates as easy. Best of all hardly anyone ever visits this location, so it has a remote feel with plenty of solitude, at a fraction of the effort. We rate this hike as easy.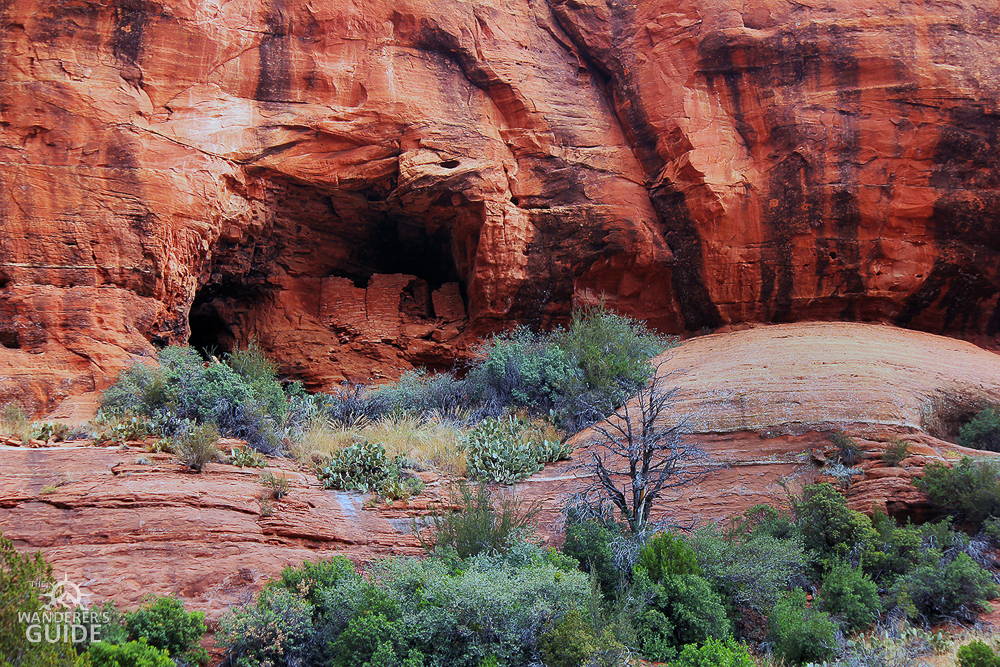 Dream Speaker Cave
Access: Boynton Canyon
Located atop one of the most picturesque ledges in Red Rock Country, the 360 degree view from the two cliff dwellings at Dream Speaker Cave is definitely worth the 350 ft climb. Who wouldn't want to live up here! We rate this hike as difficult.
Grandmother's Cave
Access: Boynton Canyon
  
According to the Yavapai creation story, this site was the home of "First Woman" and the dwelling tucked into the colorful cliffs is considered a sacred cultural site. Small bits of pottery and grinding pads for processing seeds make one wonder about what life must have been like for the ancient Sinagua. Grandmother's Cave is one of the easiest of the sites on our list with some route finding.
Merlin's Cave
Access: Deadman's Pass
The energy inside this cave is definitely magic, and since it didn't have an established local name yet, we decided to name it after the famous wizard of the King Arthur legend. For scale note the hiker standing by the entrance at the far left of the photo above. We rate this hike as moderate with some route finding.
Kachina Woman Cave
Access: Boynton Canyon

 
Located at the base of Kachina Woman Rock, this is the smallest alcove on our list. Because Kachina Woman Rock is a popular stop on the Boynton Canyon Trail it's definitely no secret, but what most people don't know is that it's possible to get inside with just a little bit of rock climbing skill. Do be careful though. This one is not for people afraid of heights. We rate this hike as difficult with some route finding.
The Windows
Access: Schnebly Hill
This small cave might be difficult to reach, but the beauty makes the effort worthwhile, and there are seldom any other people when you arrive. The extra incentive to make the journey is an arch at the other end of the rock formation. We rate this hike as difficult with some route finding..
Keyhole Cave
Access: Sugarloaf
One of the largest alcoves in the area, Keyhole Cave can actually be seen from many places in West Sedona. It's a relatively easy hike most of the way, with a steep climb at the end to reach the entrance. Actually getting into the cave requires some rock climbing skills and is not for those who are afraid of heights. The cathedral-like interior offers impressive views of Thunder Mountain, which has made Keyhole a more popular destination in recent years. Rock surfaces that have been polished by the oil of many hands are slick and require visitors to be extra cautious. We rate this hike as EXTREME with some route finding.
Kokopelli's Cave
Access: Deadman's Pass
  
Also known as Smokehouse Ruin due to extensive blackening of the ceiling from many years of occupation. The smoke makes the entrance look a bit forbidding, but once inside the walls of the cave have an interesting green tint caused by mineralization. We rate this hike as moderate with some route finding.
The Sycamore Caves
Access: FR 525C
Located west of Sedona, far from the crowds, the Sycamore Caves are filled with peace and solitude, as well as couple of ancient ruins. Few people hike the system trail nearby, and fewer still make the short trek across open slickrock to visit these caves, probably because they aren't visible from the trail. Less than a mile from the parking area, we rate this hike as easy.
Wind Caves
Access: Hwy 179
A true cave, the Wind Caves are the easiest to reach of any on our list. Just when you think you've come to the end, this labyrinth of wind carved tunnels keeps on going, making it a fun place to explore for kids of all ages. We rate this hike as easy.

Spirit Caves
Access: Soldier's Pass
This remarkable formation is actually an alcove in the process of becoming an arch. A steep social trail leads to the entrance, then you'll have to scramble up the rocks to get inside, where you'll find light filtering in from four different openings. The ethereal light inside makes for a memorable photo that will garnish likes and shares on your social media account. We rate this hike as moderate with some route finding..
Altar Cave
Access: Mescal Mountain
 
The large stone at the entrance gives this cave it's name. Rather than ceremonies being performed, the stone was most likely used as a workbench for making stone tools. This theory is supported by the fact that there is a great deal of "lithic scatter" at the base of the cliff. The cave has a commanding view of a large area below, which would have made it an ideal place for hunters to watch for game animals. We rate this hike as easy.
Ceremony Cave
Access: Hartwell Canyon
  
To get a sense of just how big this is, note the hiker sitting at the entrance on the right side of the photo above. Located a short distance from the Council of Elders rock art panel in Hartwell Canyon, this huge alcove was occupied off and on for thousands of years. There's no direct evidence that ceremonies were performed here, but the impressive rock art a few hundred yards away lends credence to the name we gave it. We rate this hike as difficult with some route finding..
Kachina Tree Cave
Access: Boynton Canyon
For decades this was simply referred to as the Tree Cave, and many locals who have lived in Sedona all their lives didn't know where it was. Since we included it in The Wanderer's Guide back in 2020, a lot of photographers are starting to find it, and the photos are incredible. We can't wait to see yours! We rate this hike as moderate with some route finding..
Subway Cave
Access: Boynton Canyon
 
One of the most photogenic spots in Sedona, the Subway has became a popular destination for hikers after we posted a photo of it in 2020 and gave it a name. There are now dozens of websites that provide directions to this spot using that name. If the Subway is a place you want to go, keep in mind it's very unlikely you would have found it prior to 2020, so... you're welcome! We rate this hike as easy to moderate with some route finding.
Shaman's Cave
Access: Forest Road 525
According to local legend this cliff dwelling was once used as a hideout for bandits. It was originally known as Robber's Roost, and it's still marked that way on Forest Service map. New Age followers from Sedona renamed the site Shaman's Cave sometime in the early 1980's, in an attempt to make it more appealing, though there is no evidence that any special ceremonies were ever performed here during the time Sinagua cliff dwellers occupied the area. We rate this hike as easy with some route finding.
Wolf's Cave
Access: Doe Mountain
Hidden in the cliffs at the top of Doe Mountain is one of the more photogenic caves in Sedona. It's also one of the most treacherous caves to reach, requiring a walk along a narrow ledge 1 foot wide and 25 feet long. The cave is located at the point of Doe Mesa directly above the parking area and to the left of where the system trail reaches the summit. It's easy to get there. What turns many would-be visitors away is the last 25 feet along that ledge to get into the cave. We rate this route EXTREME.
WANT MORE SCENIC HIKES OFF THE BEATEN PATH? DOWNLOAD OUR GUIDEBOOK TODAY!